The Main Cause of Economic Injustice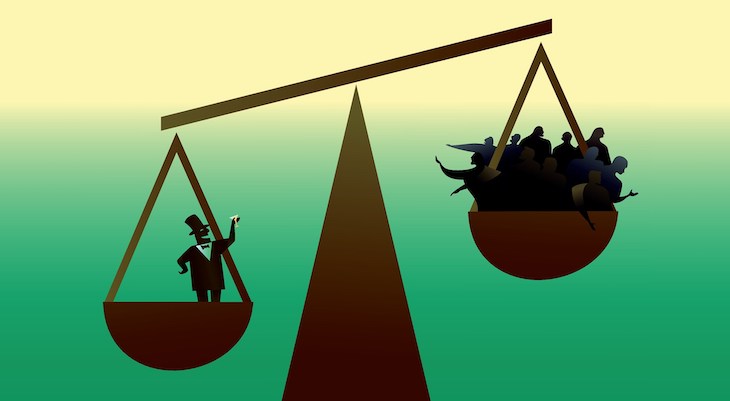 One thing that BMRC works on is review of the GPUS platform to see if there are any parts of the platform pertaining to banking and monetary reform that should be amended. Two years ago, we worked on amending Chapter IV of the platform to remove monetary reform from Section I: Banking and Insurance Reform, and place it in a new Section N: Monetary Reform (Greening the Dollar). We felt that was necessary because it is really a separate issue from banking. We also revised the section pertaining to monetary reform to make it easier to understand. Our amendments were all accepted by the National Committee and added to the platform after their approval at the Annual National Meeting in 2020.
This year we took a good look at the Introduction to Chapter IV and discovered that it had a grave omission.
The title of Chapter IV of the platform includes "Economic Justice." Unfortunately, there is nothing in the current introduction that identifies the main cause of economic injustice and our position on the means of correcting that injustice.
The main cause of economic injustice is the extraordinary grant of power and privilege by Congress to private banks to create money when making loans. Private banks create 97% of the money in circulation. They also choose the recipients of these loans. Great wealth has accumulated to the private banks and financial institution because of their collection of interest on what is basically the entire money supply in the US.
This wealth has been used by the banks and financial institutions to collectively acquire controlling interest in most of the largest corporations and use their wealth to influence the election of politicians of their choice in order to gain control of the government and influence policies adopted by the government.
Government policy in creating unnecessary weapons of mass destruction, interference in foreign elections and carrying on a state of perpetual war - while ignoring climate change and destruction of the planet - can all be traced to the wealth, power and influence of the banks and financial institutions. This also results in extreme wealth inequality — not only in the US — but also globally.
BMRC considers the omission of any information about the primary cause of economic justice in the Introduction to be a serious omission that needs correction. We will be working this year to amend the introduction to Chapter IV to include some basic information on the primary cause of economic justice, and what we would like to see done about the problem. Our main solution is contained in Section N of Chapter IV. Any new proposed amendments to the platform that are approved will change our platform in 2022.

---