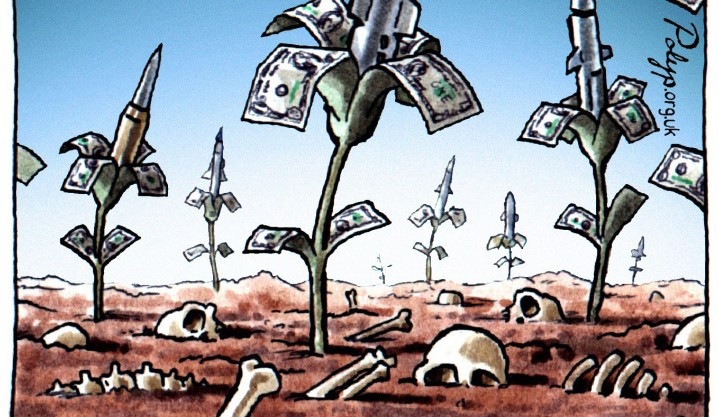 The Incentive for War
The Green Party's Peace Action Committee (GPAX) hosted a panel discussion on March 18th: A 20 Year Retrospective on the War on Terror. The BMRC was asked to present on "the financial incentive structures inherent in post 9/11 war on terror". The panel consisted of Ajamu Baraka, our 2016 Green Party nominee for Vice President of the United States, an Associate fellow at the Institute for Policy Studies, currently serving as the national organizer and spokesperson for the Black Alliance for Peace, Michael McPherson of Veterans for Peace, Madelyn Hoffman the GPAX co-chair, Howie Hawkins, our 2020 Green candidate for President and yours truly. Cindy Sheehan was scheduled as well but a family emergency called her away. It was a good discussion on the historical details as well as experiences both in war and organizing in opposition to it. More than 80 people attended.
The Incentive
The justifications for war, as we have all learned, are often fraudulent constructs designed to instill fear and demonize the targeted enemy. The mass media, run by the military intelligence community, projects this onto society to manufacture consent for war. The incentive for war however is, as it has been for hundreds of years, enormous profits. I shared a number of links on this calling attention to two of them; a research paper by NY committee member Sue Peters titled Debt Drives War, War Drives Debt (download pdf). Her paper covers the relevant history and how the system works. The other an article by Christian Sorensen titled Who Are the Ultimate War Profiteers? U.S. Air Force Veteran Removes the Veil, exposing the corporations though which the war profits flow to the financial industry.
"If you control the oil, you control entire nations; if you control the food, you control the people; if you control the money, you control the entire world." —Henry Kissinger
All this should help the peace and social justice movements to clearly articulate their demand for democratic governance. We envision an emancipatory, non-violent, democratic movement with clearly defined goals leveraging systemic change by targeting authorities who control institutional policy while educating on tactics, strategies, and goals and expanding constituencies. There is a parallel to the civil rights movement beginning with the end of the Civil War we might call the Greenback Movements, Farmers Alliance, People's Party etc. These movements failed to attain their goal of a public monetary system that would support broad based prosperity over concentrated wealth. Money is a social power now in the hands of war-mongering authoritarians. A movement is beginning to build that should be sweeping up a diversity of constituencies united for a just money system. Money is power which is why it must be a public function for public care, not a private one for private profits.

---